Senior Full Stack Engineer // Mobile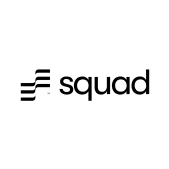 Squad
Software Engineering
New York, NY, USA
Posted on Friday, June 30, 2023
About Squad
Squad is a NYC-based tech startup disrupting the consumer social space. Our app is a voice-only, intimate social experience that makes it super easy (and fun!) to stay close with your close friends. Our launch was covered by TechCrunch.
We're backed by the who's who of Silicon Valley, including top venture capitalists, and the founders of notable companies like Slack, Zillow, Away, Box and StichFix. We just completed a fundraising round, and are looking to hire the next wave of engineers, product managers and data analysts ASAP to drive our product to the next level.
As an early senior engineer on our team, you'll have the opportunity to be an integral part of our product growth story. From owning certain parts of the tech stack, to implementing bomb ass features on a daily and weekly basis, you will be a very influential part of our growing engineering organization. There will also be lots of opportunities to lead and build a foundation for the tech team. As the company grows, so will you! 💪
Competitive compensation and benefits. We've got your back! ;)
Responsibilities
Make a huge impact helping to bring ideas to reality on a team led by compassionate engineers
Work closely with PMs, designers, and other engineers to ideate and develop first rate engineering solutions
Own the development of product features end-to-end including scoping, architecting, coding, testing, and rolling out features
Take ownership of large pieces of the tech stack
Build & manage integrations with third party APIs (Snap, Twilio, etc)
Help build a world class engineering team--with thoughtful processes, and an amazing culture
Make improvements to developer productivity through process & code improvements and mentorship
About You
5+ years building amazing, consumer mobile products
Fluency in React Native (ideal), Obj-C/Swift, or Java/Kotlin
Strong architecture, problem solving and troubleshooting skills
Previous work experience at a high-growth startup is preferred
Ability to receive frequent feedback and to adapt quickly to changes
Proficient in all parts of the stack (frontend, backend, anything in between) with expertise in one or more area(s). But, it's fine to be stronger in one part ;)
Strong willingness to learn and sharpen your technical skills more broadly
Strong verbal and written communication skill for a document- / communication- first culture
Desire to work autonomously / work like an owner
High empathy. You care about your teammates and our users. You can put yourself in their shoes
Phenomenal verbal and written communication skills
Track record of results, motivation & hustle
You are an amazing human being, excited about changing the future with us! Let's goooooooo! :)
Proof of Covid-19 vaccination is required.