Customer Success Manager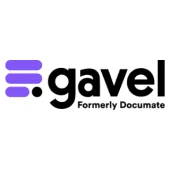 Documate
Administration
Remote
Posted on Saturday, June 24, 2023
In the next 10 years, 90% of legal services will be delivered online. What's the obstacle? Coding the expertise of all the world's lawyers.
‍
Gavel is the no-code infrastructure enabling this legal revolution.
‍
On Gavel, our lawyer-customers build web based experiences for their clients. Law firms, nonprofits and courts in 23 countries and 18 languages use Documate as the backbone for their legal tech tools.
‍
We're looking for a Customer Success Manager to work with our customers and keep up with our rapid growth. You'll work with our customers to ensure smooth onboarding and answer questions. You'll also be directly responsible for optimizing the process, creating learning materials for new features, and reporting to our product and engineering teams.
‍
Do you love talking to people and solving problems? Do you want to work with brilliant people on groundbreaking ideas? If so, we want you on our team!
‍
❤️ What You'll Do
Work with our customers to facilitate a smooth and efficient customer onboarding process
Process optimization: map out the customer journey and constantly improve the customer-facing experience
Measurement/reporting: identify customer success metrics, and track and report on these with the product and engineering teams
Have a say in the future! Your ideas and insights will go directly into our product development
📄 Requirements
Experience: 1+ years in customer success, ideally with B2B customers or lawyers
Written and verbal communication: ability to communicate effectively with customers and stakeholders - including leadership, product, and engineering
Relationship management skills: build rapport with customers and proactively exceed customer expectations
Detail oriented: you can spot typos from a mile away
Easily grasp how to use new software (Extra credit if you have a technical background!)
🤚 The Benefits are Real
Competitive compensation package (including salary and equity opportunity)
Flexible PTO, sick leave, and company-wide holidays
Work from anywhere, and $1k WFH budget
Professional development allowance (e.g., courses and certifications)
Excellent medical, dental and vision coverage
Company 401(k) savings plan (non-matching)
To apply to this job, send your resume and a short message on why you're interested in the role to [email protected].
‍
Gavel is an equal opportunity employer and we celebrate diversity and are committed to creating an inclusive environment, free from discrimination or harassment, for all employees.