Senior Product Designer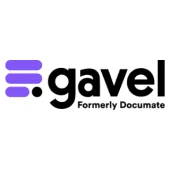 Documate
Product, Design
Posted on Thursday, March 2, 2023
In the next 10 years, 90% of legal services will be delivered online. Gavel is the no-code infrastructure allowing this legal revolution, while enabling these services to become accessible to the 92% of people who can't afford legal support today.
‍
We are a small passionate team led by Dorna Moini (CEO) and Pierre Martin (CTO), on a mission to change the way legal services and technology work for all. Law firms, nonprofits and courts in 23 different countries use our platform as the infrastructure to make legal services more accessible, intuitive, modern and scalable.
‍
We have paying customers and an active community of thousands of builders and legal experts with supportive feedback. Our recent round of seed funding, led by top tier venture capital including the founders of code.org, will help us scale our product and reach.
‍
If you want to work with brilliant people on groundbreaking ideas, we want you to join our team! Check out a quick video of Dorna showing the product.
‍
What you'll do:
‍
We're looking for a Senior Product Designer and first full-time designer on our team. You will help us invent the visual design and user experience of online legal services at large.
‍
Model design led thinking and advocate for the users - consumers and legal builders alike.
Invent a visual design language and user experience which brings simplicity and trust in notoriously complex and cryptic workflows.
Bring ideas to the table and collaborate with all functions in the company to bring a design and product vision to life.
Own the design and user experience for the product end-to-end. Create visual designs, user flows, information architecture.
Prototype and test concepts in fast iterations.
Have the freedom to experiment, learn and invent on behalf of our users and mission.
‍
What you need:
‍
Experience working at a lead or senior level. At least 5 years experience in both UX and visual design.
Ability to bring design clarity to early stage product ideas.
A passion for the craft of design - an eye for design details and thoughtfulness in copy, color and customer experience that delights.
Ability to work autonomously and with accountability to deadlines.
Excellent communication to explain your ideas succinctly and clearly to C-suite and engineers alike.
Familiarity with modern front end technologies, particularly React.
Located in the US.
A link to a portfolio.
‍
What you'll get
‍
A remote-first work environment with access to great tools and a work machine of your choice
Competitive compensation package (including salary and equity)
Unlimited PTO, sick leave, and company-wide holidays
$1k WFH budget
Professional development allowance (e.g., courses and certifications)
Excellent medical, dental and vision coverage
Company 401(k) savings plan (non-matching)
‍
Interested? Here's what to expect:
‍
Send a link to your CV and Portfolio/Case Study to

[email protected]

.
If successful, you'll meet one of our founders on the first interview. We take our team culture very seriously, and you'll want to know the people you'll be working with too.
One of our partners will speak to you about a Case Study from your background.
A final interview to ask situational and role-related questions
‍